About Eglen Law, LLC
Eglen Law brings a refreshing perspective and a unique blend of skills and expertise to the practice of law. Jeremy and Destini's education, experience, and interests fuse together in a distinctive aspect and strong capability to incorporate personal, business, and technology issues and the law. Not only do private individuals seek their assistance on legal matters such as wills and trusts, civil litigation, or landlord-tenant relations and agreements, they have assisted inventors and artists with trade secret protection, copyright issues, and the patent process.
Business & Technology Attorney
Owners of new and growing businesses look to Jeremy and Destini for legal advice and services to structure and run their daily operations. Especially when it comes to the special situations surrounding technology use, services, and products. Jeremy understands intimately the nuances of technology so he provides an expert eye on both the details of technology and how it relates to legal matters.
Notable Experiences
Jeremy has been an adjunct professor at Butler University since 2009. He teaches courses on Computer Ethics and Robot Programming. He has also been an invited lecturer since 2005 to universities, schools, and organizations across the United States. In 2012 Jeremy was asked to participate in the American Antitrust Institute Annual Symposium at the National Press Club in Washington, D.C. He joined Hal Varian, Chief Economist of Google and Susan Athey, Chief Economist of Microsoft to discuss "A Case Study in Dynamic Pricing: from Monty Python to Google." He has presented as a part of multiple continuing legal education programs for the National Business Institute, and has spoken on issues in the emerging area of drone (unmanned aerial vehicle) law for the Indiana chapter of the AUVSI, the Aviation Association of Indiana, and the Federal Bureau of Investigations.
Destini may be newly barred as an Indiana attorney, but she is not new to legal achievements. While attending Robert H. McKinney School of Law, Destini competed in the Robert H. Staton Moot Court Competition where she finished in the top 25% and was admitted to the Order of the Barristers. She also competed in the 2019 Indiana State Bar Association Law Student Conclave Moot Court Competition. She and her teammate were semi-finalists in the oral argument section of the competition and won the award for best written brief. Since joining the Eglen Law team in 2020, Destini has made tremendous strides such as writing a case winning appellate brief.
Personal Volunteer Work
Personally, Jeremy served as volunteer Guardian Ad Litem through Kid's Voice from 2005 to 2007, was assistant coach for Heritage Christian School Mock Trial Team from 2006 to 2008 and volunteered his legal services at Sheltering Wings Women's Shelter from 2013 through 2017. He also is an experienced computer programmer and holds an Amateur Radio Technician Class license (K9JIE).
While in law school, Destini participated in many student organizations such as the Black Law Student Association, Equal Justice Works, Second Chance Re-Entry Program, and the IU Student Outreach Clinic Legal Services, and was able to volunteer through those organizations. While serving as the treasurer of the Equal Justice Works Student Organization for the 2019-2020 school year, Destini organized a fundraiser and was able to raise $1,500 to donate to the Dayspring Center in Indianapolis. Destini has since started to volunteer at other organizations such as Gleaners Food Bank and helps to mentor current law students.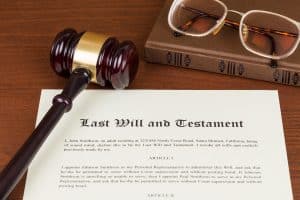 People are considering the importance of wills more than they once did. This is evidenced in the fact that as of 2021, 18 to 34-year-olds are more likely to...
February 7th, 2022