About Eglen Law, LLC
Jeremy Eglen brings a refreshing perspective and a unique blend of skills and expertise to the practice of law. His education, experience, and interests fuse together in a distinctive aspect and strong capability to incorporate personal, business, and technology issues and the law. Not only do private individuals seek his assistance on legal matters such as wills and trusts, civil litigation, or landlord-tenant relations and agreements, he has assisted inventors and artists with trade secret protection, copyright issues, and the patent process.
Business & Technology Attorney
Owners of new and growing businesses look to Jeremy for legal advice and services to structure and run their daily operations. Especially when it comes to the special situations surrounding technology use, services, and products. Jeremy understands intimately the nuances of technology so he provides an expert eye on both the details of technology and how it relates to legal matters.
An Attorney with Business Experience
Previously, Jeremy acted as sole legal counsel and Chief Operations Officer at Digonex Technologies. He contributed to the success of the company growing into a multi-million dollar business. He brings his understanding of the challenges of not only growing a company, but protecting the software, patents, and other technology capital of a cutting edge enterprise. Not only was Jeremy responsible for negotiating and preparing legal agreements with international corporations for complex and detailed software and programs, he also managed a staff of network and systems engineers, marketing professionals, economists, computer programmers, and supervisory managers. Another aspect of his position was the containment and reduction of costs in-house, as well as developing systems to increase profitability by up to 40% for clients such as Warner Music and the Minnesota Twins.
Noteable Experiences
Jeremy has been an adjunct professor at Butler University since 2009. He teaches courses on Computer Ethics and Robot Programming. He has also been an invited lecturer since 2005 to universities, schools, and organizations across the United States. In 2012 Jeremy was asked to participate in the American Antitrust Institute Annual Symposium at the National Press Club in Washington, D.C. He joined Hal Varian, Chief Economist of Google and Susan Athey, Chief Economist of Microsoft to discuss "A Case Study in Dynamic Pricing: from Monty Python to Google." He has presented as a part of multiple continuing legal education programs for the National Business Institute, and has spoken on issues in the emerging area of drone (unmanned aerial vehicle) law for the Indiana chapter of the AUVSI, the Aviation Association of Indiana, and the Federal Bureau of Investigations.
Personal Volunteer Work
Personally, Jeremy served as volunteer Guardian Ad Litem through Kid's Voice from 2005 to 2007, was assistant coach for Heritage Christian School Mock Trial Team from 2006 to 2008 and volunteered his legal services at Sheltering Wings Women's Shelter from 2013 through 2017. He is an active member of the Avon Rotary Club. He also is an experienced computer programmer and holds an Amateur Radio Technician Class license (K9JIE).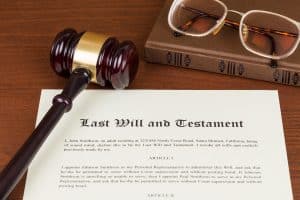 People are considering the importance of wills more than they once did. This is evidenced in the fact that as of 2021, 18 to 34-year-olds are more likely to...
February 7th, 2022